As you plan your wedding day, we know you'll find ways to make it as deeply special as the story of love you're writing together with your future spouse. For some inspiration, here we share with you unique features from Southeast Missouri couple Ashley and Sam Howard's wedding. Congratulations — we are joyful with you as you prepare for and celebrate your new life together.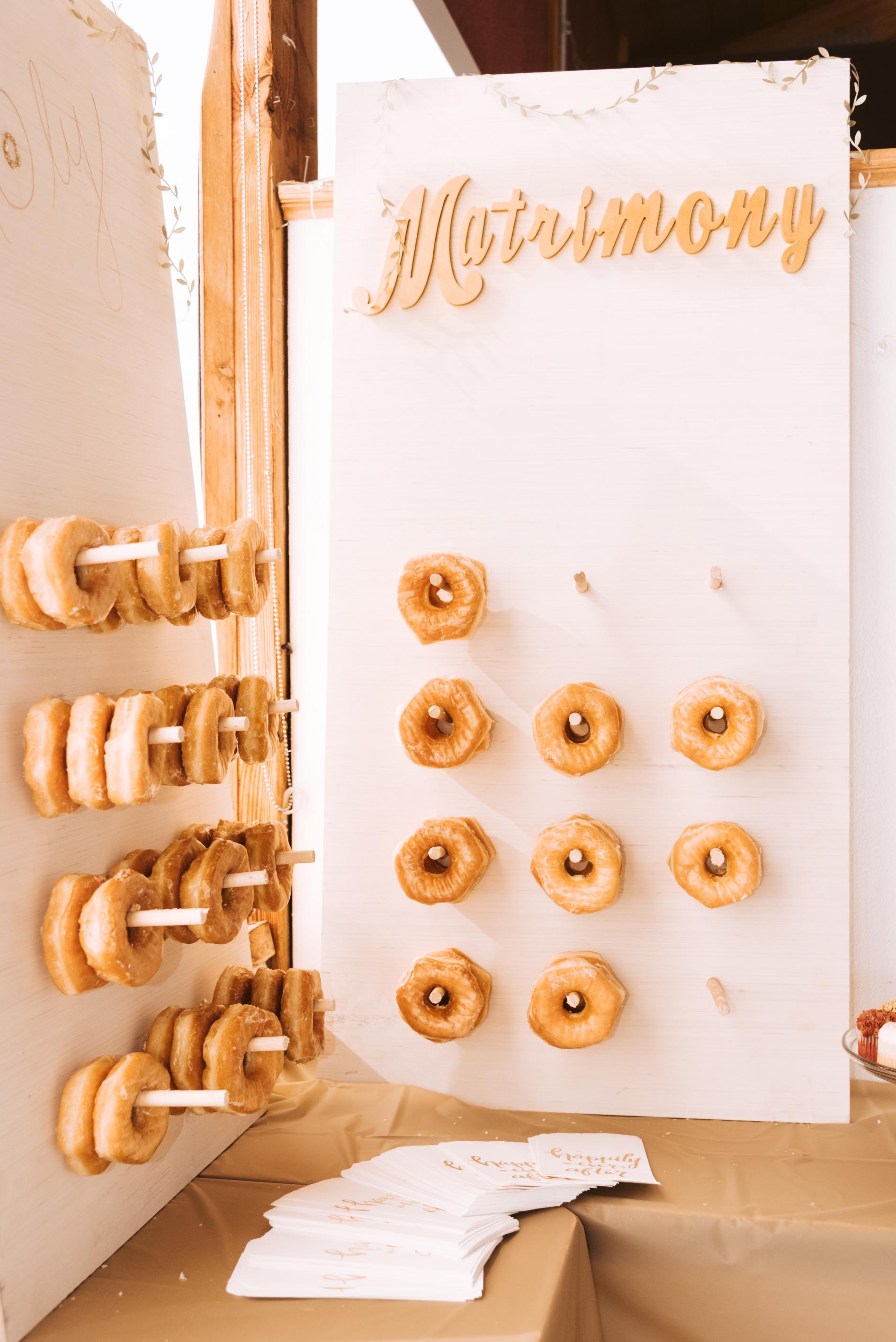 Ashley + Samuel Howard
​
Hometown: Chaffee, Missouri, where the couple resides.
During their first year of dating, Ashley and Samuel Howard attended an October First Friday event in downtown Cape Girardeau. At it, they toured The Glenn House because they'd heard it was haunted. "We fell in love with the historical place," Ashley says. "That was the very first thing we decided for our wedding. We wanted to get married in that backyard."
So, they did. And the decorations at the wedding and reception were inspired by the couple's love of road tripping and adventuring together: for their guest book, they used a globe painted in chalkboard paint guests could sign, and for their card holder, they used a vintage suitcase. The evening also featured a doughnut wall Sam and his dad put together. On each table, Ashley used wine bottles in different colors as photo holders, placing a picture of herself and a picture of Sam at the age that matched the table number on each table. In addition to these personal touches, Ashley's son helped her dad walk her down the aisle and also made what Ashley calls "the greatest best man speech ever."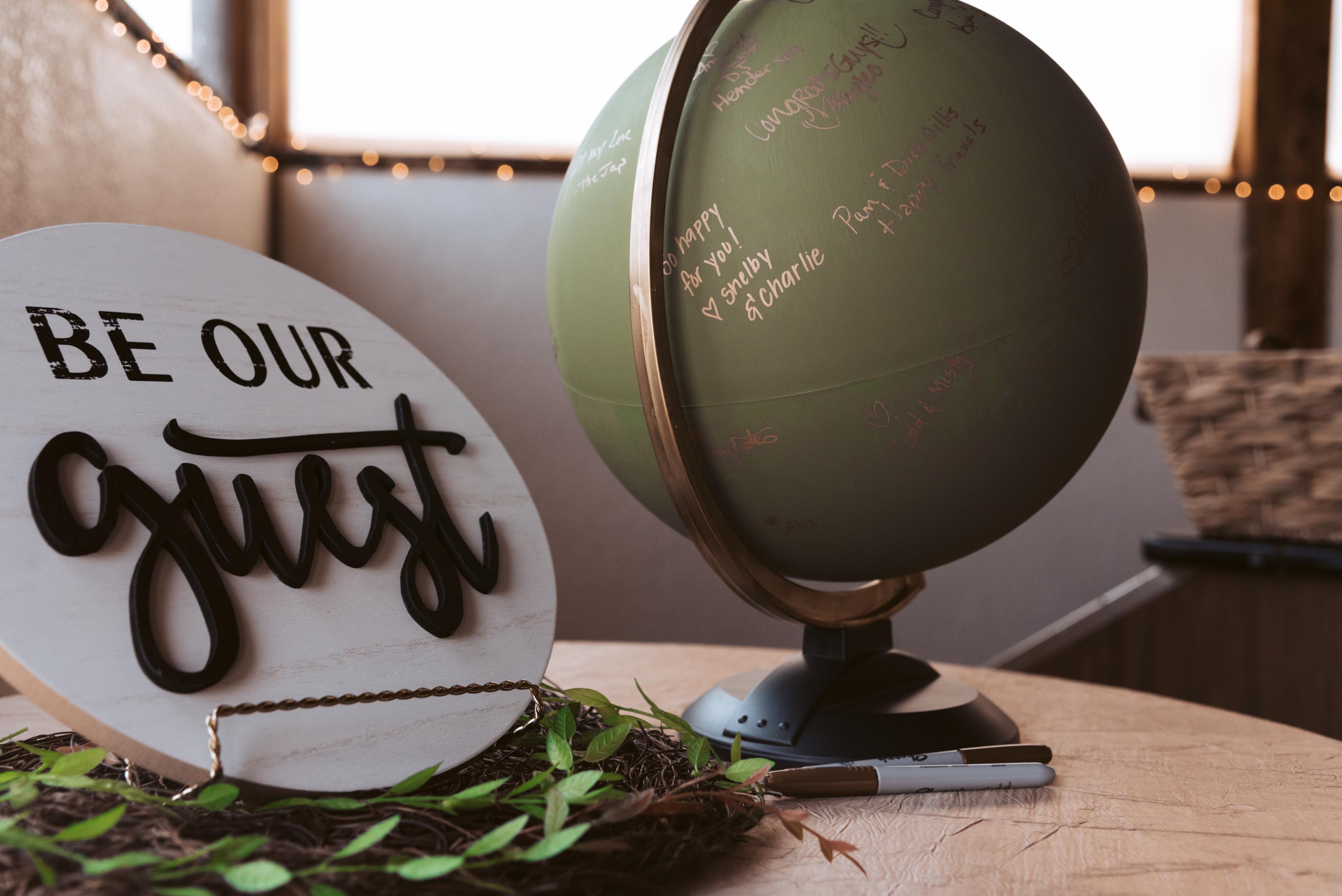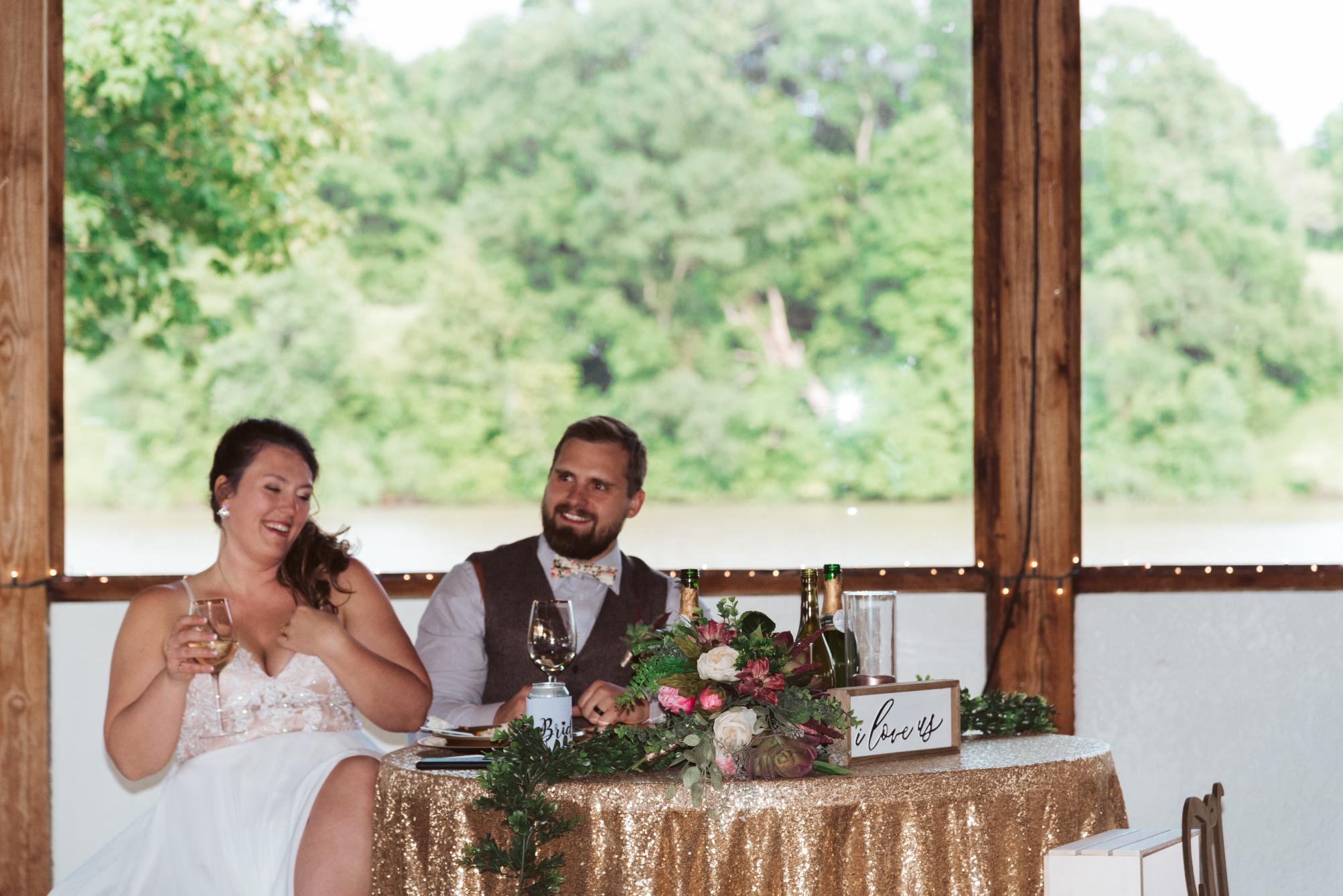 Tell us your love story.​
We grew up in the same town but didn't meet until I was almost 28. One night, my friend Chris and I decided to go have a drink at our local bar, and in walked Sam. I thought he was cute from the moment I met him, and we spent the whole night talking. By the end of the night, I found out he is also from Chaffee and seven whole years younger than me. Despite the age difference, I could not stop thinking about Sam. I was seriously crushing hard on him, and unknowingly, Sam was crushing on me, too. We spent the whole next year just being friends and getting to know each other until one night I finally let him know how I felt. The next night, he kissed me. That's all it took: one kiss, and we have been inseparable ever since. I knew after a month of dating he was the one. 
He says:
The best part of my wedding day was seeing my bride walk down the aisle. I had gone about 20 hours without her, so I was excited to see her, regardless of the scenario. But I wasn't ready for how breathtaking she looked. It was a battle trying not to tear up.
Meet The Photographer:

Leigh Ann Hutchings
Tumbleweed Photography
I love eye contact! It's this intimate experience with another being that is hard to put into words. Prolonged eye contact is something that requires vulnerability and trust. Once I hit the sweet spot in a shoot where my clients are looking directly into my camera lens or directly into each other's eyes and they don't look stiff or uncomfortable, I know the real fun is about to begin. After that moment of eye contact, I am no longer a spy that has invaded their territory; I am now part of their unit. Personalities start to come out and relationship dynamics present themselves. I leave every single shoot feeling like I really got to know my clients in a way no other profession has ever given me.