With Show Me Center marketing director Abbie Lady
At flourish, we create conversations that bring people together. Conversations that teach us things about other women. Conversations that give us insight into what drives them to get up and do what they do. In this issue of flourish, we chat with woman-on-the-move Abbie Lady, the current marketing director and past events supervisor for the Show Me Center. She's the person working behind the scenes to make sure your "I Love the 90s concert" or your kid's PJ Masks show goes off without a hitch and the industry up-and-comer who was named a member of the International Association of Venue Managers 30 under 30 class in 2015.
Join us as we take a five-minute walk with Abbie.
The theme for this issue of flourish is "line." For most people, the line from college to career is very rarely a straight one. For most of us, it resembles a wave that ebbs and flows until hopefully, we arrive where we are meant to be. Tell us a little bit about the path you took to where you are today.
In 2004, my freshman year of college, my parents told me I needed to get a job, so I applied at the Show Me Center as an usher/ticket taker and loved it. I worked as much as I could, even coming in during breaks as needed. I continued doing that through my sophomore and junior years. Then my senior year, I got an internship in event supervision, even though my major was marketing, which led to staying on after college as the head ticket taker/usher/front-of-house person. Then the head of the Show Me Center, David Ross, began to notice me and offered me a post-college job of administrative assistant and later the interim events supervisor. In 2008, I was officially named the event supervisor — the first female to hold the position — which I did for eight years until 2017, when I was named the marketing director.
Event supervisor to marketing. Tell us a little bit about that jump.
When I did the Show Me Center internship, I thought "Oh man, this is fun. Maybe I could be Shannon [Burford, the then-marketing director at the Show Me Center] one day." I had always been determined to work in my major, so when the marketing position opened up, I applied for the job. The Show Me Center is a smaller venue, so I still work events including nights, holidays, weekends — whatever is needed.
In 2015, you were named a member of the International Association of Venue Managers (IAVM) 30 under 30 inaugural class. How did that nomination and selection occur?
The program was designed to recognize young talent in venue management. I was nominated for it by David Ross, who was the General Manager of The Show Me Center at the time. I went through a pretty elaborate selection process, including a video component with which I was lucky enough to have help from a student in the mass media department in producing. I submitted everything and in the end, I was selected.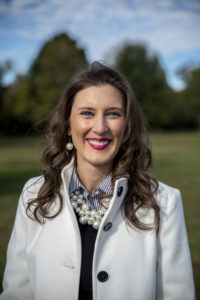 You also have held several leadership roles within the IAVM, correct? Tell us a little bit about those.
I currently serve as the Region III director and am on the Board of Directors. I'll officially turn over my director gavel in July.
One name you've mentioned several times as we talked is David Ross. Is he someone you consider a mentor?
I didn't realize when I first started how much of an impact he was going to make. When I first got named to the event supervisor position in an interim capacity, David signed me up to attend the Public Assembly of Facility Managers School through the IAVM. When I pointed out that I technically was still a probationary hire, he said it didn't matter. He said he "knew I was going to make it, and he would make sure I made it." At the time, I wasn't sure exactly what I had gotten myself into, but he thought I was going to be great, so … He helped me so much in learning the industry and meeting people. He was actually a past Region III director and chair of the IAVM, so a lot of my involvement came from his involvement. He just gave great advice. He was hard on me, and expected a lot of me because he saw what I could do.
You've been a part of a lot of shows over the years. What is your favorite part of the process?
When the event starts, you have this tiny moment to stand to the side and see everyone enjoy the event, and you realize you had something to do with this. Children's shows are the best. To see just pure joy radiating from the kids is a great feeling.
Final question. What is your dream job?
To be the General Manager of a building, any building. Position trumps location. However, if Dr. Pepper ever starts to run a venue, I want to go there!